Here are a few tips that may be helpful for you:
Clean your nails before applying polish, with polish remover (even if they were not polished) or with a fresh lemon. This will remove any oils and debris and produce a clean canvas for painting.

Add a basecoat. It will protect your nails and even out the ridges.

Polish a bit over the tip of the nail.

Two thin layers of polish are better than one thick layer.

Don't forget your topcoat!

Add a fresh layer of topcoat 2-3 days after to add shine and further protect your polish.
How can I get my nails healthy and strong?
Here are a few helpful tips!
Don't buff your nails too often, as you will thin them.

Give your nails a break from polish every once in a while.

Apply cream or oil to your nails to keep them hydrated.
---
New designs added for Halloween and the Holiday Season
---
Can Nail Art Really Be this Easy?... (and Fun)!
The hottest trend in nails! Get salon style with no dry time! Easy-on, easy-off. No smudging, no rubbing off! Get complete coverage in an eye-popping design that will grab everyone's attention. The pack comes with a whopping 18 strips, givi

ng you all the extras you need to match each nail with its perfect size. And hey, you'll have a few extras for a do-over or to mix things up next time!



These Nail Art Design Strips are so easy to use:
1. Peel
2. Place
3. Perfect



Simply peel one off, place it on a clean dry nail, pull over the nail tip and file to shape it.
Choose from 19 different designs in Avon's Campaign 14 brochure.
---
Click here to view all Nail products and promotions
---
Pro Nail Art at home? The NEW must-have that makes it possible!
Nail art is hot news and surely you've tried experimenting at home, but if you want to take your nail art to the next level, then you'll want to get your hands on this latest find: Avon Nail Art Nail Enamel. Now you can create the same detail as the pros thanks to its specially-designed precision brush. To get you started, here's how to create nail looks similar to the ones shown here:
Step 1: Polish nails with your favourite Nailwear Pro+ shade.
Step 2: Let dry completely.
Step 3: Apply new Nail Art Nail Enamel in a contrasting shade, experiment with dots, stripes, geometric designs, etc. Its precision brush lets create your very-own freehand art!
Step 4: Apply Nail Experts UV Gloss Guard Top Coat to seal the look.
---
Anything goes when it comes to one of the biggest beauty trends - nail art. From ombré and colour blocking to tie-dye and texturizing, nails take centre stage in a very bold way.
Ombré
Nail art trend to try:
With a tendency to lean towards bright, bold, contrasting colours and daring patterns, try the single nail ombré mani in either bright contrasting colours, or a single shade, which goes from colour to clear.
How to do it:
Using a makeup sponge, which has been dampened with water. Paint the darkest colour in a line at the edge of the sponge (this is where the top of your nail gets the most colour).

Using your second darkest colour, paint another line on the sponge, just below the darkest polish shade.

Repeat this until all 3 to 4 polish colours are on the wedge. (A heads up—working with a little speed will help prevent the polish from drying on the sponge too quickly.)

Lightly remove any excess polish by tapping the painted side of the sponge on paper once or twice.

Line up the edge of the sponge (darkest colour) with the tip of your fingernail and press down firmly (yes, it will be messy, but clean up comes later).

Use a q-tip and polish remover to clean up the mess on your fingers and around he cuticle before topping up the nail art with a strong, shiny top coat.
Note: "This is probably one of the most labour-intensive trends. Ombré lends itself to a little imperfection; smudges and mistakes tend to look ok and are forgiven with this look but each nail may require you to reapply the polish stripes to the sponge to get the most vibrant colour effect." You'll need to give yourself about an hour from base to top coat.
---
Cool Colour Blocking Nail Art
Nail art trend to try
Go for wild, bright, patterned and embellished nails.
How to do it:
Start with your base coat and, when dry, apply your base colour to the entire nail.

Using your second colour and, if needed, a strip for precision, lay it straight or on a diagonal, depending on the look you are going for. Make sure to apply the strip firmly but be sure the first coat is dry so you don't peel off any of the colour when you remove the strip.

If you're applying a third colour, repeat the previous step with the next colour.

Don't forget to top coat for a longer-lasting mani and to avoid smudges.
Note: Allow for a lot of drying time so there are no smudges or streaks with this look. "Make sure you've got the time and patience to redo nails if smudges do occur. You'll need about 45 minutes to an hour."
---
Avon Nail Studio: Mosaic Effect
See how Avon's Mosaic Effects can create a fun & trendy look with a simple top coat.
Have fun with this look by using multiple colors on your nails and new Mosaic Effects in Metallic shades.
---
Get the look:
Newsprint nails and Crackle nail art!
Watch as our PR pros, Nat & Liz, reveal insider tips on how to create newsprint nails and more..
---
Nail Lacquer—What's the Shelf Life?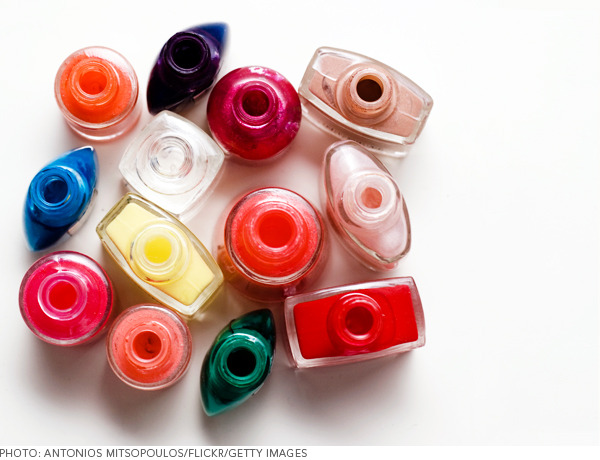 Unlike mascara's lightening-fast turnover rate, nail polish is one of those beauty products that takes a lot longer to use up, but tends to stay in cabinets and counters for decades (seriously—we've spotted bottles from the last century). Contrary to powders and blushes that come with a suggested makeup expiration date—check the little icon in the back of the compact—lacquers, top and base coats, and special nail treatments don't exactly have a mandated shelf life. So when do you toss them?
According to Schoon Scientific president Doug Schoon (who formerly served as CND's VP of Science and Technology), the FDA does not designate the shelf life of nail polish, so it's up to the manufacturer to determine the appropriate date. "Unopened and properly stored polish will last at least 18 months, possibly 24 months depending on storage conditions," says Doug. Real talk—two years is a little early to ditch that half-used splurge, so it's more important to look for signs of a spoiled bottle instead of relying on the date.
SPOTTING AN EXPIRED NAIL POLISH
Texture is a dead giveaway for varnish gone wrong. Older bottles typically feel thick, clumpy, and are troublesome to apply an even coat compared to newer, runnier textures. "Over time, some ingredients begin to clump together, making it difficult to remix them," clarifies Doug.
HOW TO PRESERVE YOUR NAIL POLISH
But like all beauty products, a long shelf life begins with a little TLC. "Your nail polish should last forever, as long as you store it properly," asserts Essie Cosmetics founder Essie Weingarten, whose famous lacquered lineup includes over 250 cult-loved shades we probably own over half of. As long as the polish is stored out of direct sunlight and in a cool, dark setting—"the light and heat can break down the drying time," she explains—and the bottle of the neck is kept clean with acetone, there's no reason why you can't keep the nail renaissance going and going.
GO CRAZY - AVON HAS OVER 45 SHADES TO CHOOSE FROM
AND 9 SHADES OF MOSAIC TOP COAT EFFECT

---